Only available for W-2, 1095-C, and T4 formsets
For formset types (W-2s, 1095-Cs, and T4s) that allow employee access to view their tax form(s) electronically, there is a 'Manage Employee Access' checklist task. By default, the Employee Access setting will be disabled and require the admin to enable through the Employee Access setting (previously discussed in Section 2.2.2.1) or through the Manage Employee Access checklist task that will launch the administrator into the Employee Access Wizard.
If Employee Access has already been enabled through the formset settings, it will carry-over and display as such within this task.
GreenEmployee.com will track employee access, manage all electronic pre-consents/ consents, and provide employees the ability to view and print their tax form(s). For a report of how many employees have consented to receive electronic forms or have viewed their form electronically, see Section 5.1 to review 'User Activity' reports available through Year-End Forms.
Note: Greenshades also supports a web service that enables companies to integrate their own websites, or a new website, with the Year-End Forms portal to allow recipients of any form type to receive their form electronically. Contact sales@greenshades.com for more information.
<![if !supportLists]>3.1.1.1

<![endif]>
Basic Settings
<![if !vml]>

<![endif]>
It is important to note that you may only enable Employee Access through the Year-Ends Forms portal if the corresponding Employee Access setting in GreenshadesOnline.com is also enabled. Clicking the 'Full employee access settings can be managed on the Access Settings page.' link will navigate you to the GreenshadesOnline.com setting.
<![if !vml]>

<![endif]>
Once Employee Access is enabled, those employees that have pre-consented or consented to receive their tax form(s) electronically will be able to view their tax form through GreenEmployee.com à Pay History à Tax Forms.
<![if !vml]>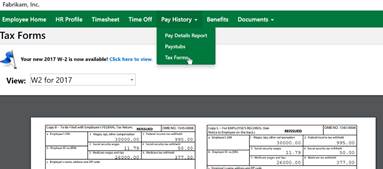 <![endif]>
<![if !supportLists]>3.1.1.2

<![endif]>
Turbo Tax Setup
<![if !vml]>

<![endif]>
If you would like, Greenshades will synchronize your employee year-end forms data to Turbo Tax. If you choose to synchronize your forms, your employees will then be able to download their W-2 data directly from Turbo Tax while completing their 1040. After beginning synchronization, any changes you make to your forms will automatically synchronize to Turbo Tax.
Please note that the synchronization cannot be turned off once it has been activated; please make sure your forms are ready to be viewed within Turbo Tax before you activate synchronization.
<![if !supportLists]>3.1.1.3

<![endif]>
W-2/1095-C/T4 Settings
<![if !vml]>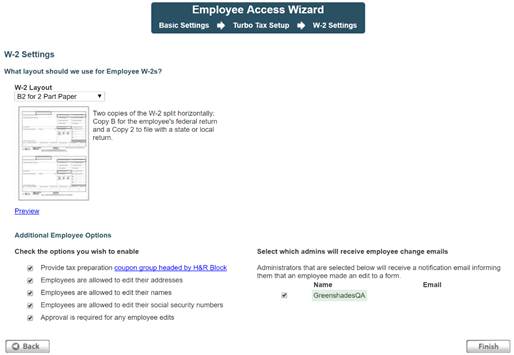 <![endif]>
Form specific settings within the Employee Access Wizard allow the administrator to choose which template layout will display when employee's electronically view their form.
There are also additional options to:
<![if !supportLists]>· <![endif]>Include a tax preparation coupon sheet with the electronic tax form (with a preview of included vendor coupons)
<![if !supportLists]>o <![endif]>Included coupons vary based on tax form
<![if !supportLists]>· <![endif]>Allow employees to edit their address, name, and/or SSN
<![if !supportLists]>· <![endif]>Require administrator approval on employee edits
<![if !supportLists]>· <![endif]>Elect to receive administrator notifications when an employee edit is made
For additional support please contact us.
(888) 255-3815 ext.1